The Wandering Hermit
Psychic Readings
Reader 2 (coming soon)

Reader 3 (coming soon)

Reader 4 (coming soon)

Brand New At The Wandering Hermit!

We now have a bulletin board to discuss all the topics on The Wandering Hermit. Please stop by and ask questions about the tutorials, discuss some poetry (or even post your own poetry), or talk about a number of metaphysical topicslike Tarot, Astrology, Rebirthing, Past Lives, or Spiritual Growth.

---
Psychic readings are available through The Wandering Hermit for guidance and counseling. All the psychic readers at The Wandering Hermit are professional readers who have experience doing long distance and in person readings. We have a variety of readers who can do intuitive, tarot, astrology, channelled, and other types of readings. All psychic readers at The Wandering Hermit are held to our ethical and professional standards (please see our notes on Reader Qualifications and Reader Ethics for more information). We offer pre-booked and pre-paid readings lasting for 1/2 hour or 1 hour. If there is a problem with a reading, we will do all we can to satisfy you as a client.
Some of our readers are available for parties or group readings or for special events. This includes after-prom parties large events. Office parties or other gatherings for fun or rewards are always fun, since people don't always expect to meet up with a psychic reader.
Why not have a tarot reader at your next party? It's unique, fun, and even helpful!
We also provide private instruction or group classes on using tarot cards (in the Richmond, VA area only). We are extremely flexible on this and will work with individuals or groups. Usually groups of 5 or more work best so it is possible to structure the fees so each student does not have to pay to much. We can teach the use of tarot cards or other means of divination for meditation, for personal growth, for divination, or even for use with friends or partners or spouses to help people learn about themselves and others. We can provide classes in a once-a-week setting, or in a one day or weekend retreat setting. Retreat settings are a good way to learn tarot if you are more interested in understanding the deck and the archetypes in it rather than memorizing exact meanings of the cards.
All readers at The Wandering Hermit are experience and professional readers. They have all read for other readers and have established a reputation for honest, fair, and accurate readings. They have all been evaluated by other psychic readers and have at least several years experience. Most of our readers use several different methods during readings (such as tarot and intuitive/psychic or runes and tarot). See the information page on each reader to learn more about them.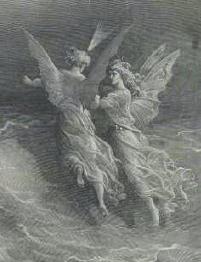 We believe strongly that every psychic reader should let love and a spirit of healing guide all their actions. I have never drawn up an exact code of ethics, but these are promises I make as a reader:
There are people who claim to be psychics that will bait clients into paying large fees for "soul cleansings" or to bring about a happy resolution to a situation. This is playing on peoples fears and is not only cruel, but manipulative and fraudulent. Often these are the same people who will not allow clients to record sessions. Our interest is to help the client by giving them as much information as possible. It is not our job to talk about doom and gloom. It is our job to help clients heal and grow and see the light offered to them in their life.
Reading Content and Customer Satisfaction: It is important to note that our readers will do their best to provide any customer with as much information as possible. While we strive to help people and seek a high level of customer satisfaction, it is important to remember that there is a difference between being satisfied with a reading because it was accurate and helpful and being satisfied with a reading because the information was what a person wanted to hear. It is our job, as readers, to provide you, as a customer, with as much information and guidance as possible. What we are able to tell you may or may not be what you want to or had hoped to hear, but part of our job is to help you understand what is happening and why.
Length of Readings and Fees: We do not charge by the minute and do not use a 1-900 number. That would actually be easier for us, but it would not help us provide the type of service we prefer. Readings are 1/2 hour or 1 hour. This is plenty of time to ask many questions and look at several issues. We do not bill by the minute, which we feel would encourage either a "hurry up and tell me" or a "let's drag this out so I make more money) atmosphere. This type of billing can immediately put the reader and customer at opposition. Instead we offer set reading lengths. While it is possible to upgrade a reading to a longer time, it is seldom necessary. Our fees are competitive with other readers in the Richmond, VA area. We charge $35.00 for a half hour reading, and $60.00 for an hour reading. The only added charge is $8.00 on a half hour reading, and $15.00 on an hour reading. This extra charge is because WE call YOU. This charge covers our phone costs. Depending on long distance rates, this extra charge may be reduced in the future.