The Wandering Hermit

Learning the Tarot
by Peter Denvid Wright
Denvid@TheWanderingHermit.com
© 1999 by Peter Denvid Wright
P.O. Box 3571, Richmond, VA 23235
(804)-560-2820
Brand New At The Wandering Hermit!

We now have a bulletin board to discuss all the topics on The Wandering Hermit. Please stop by and ask questions about the tutorials, discuss some poetry (or even post your own poetry), or talk about a number of metaphysical topicslike Tarot, Astrology, Rebirthing, Past Lives, or Spiritual Growth.

---
The Celtic Cross
Clear your mind, then concentrate on the topic or concern you have. This will be the focus of the spread. Shuffle the cards. If you cut the deck before doing a spread, do it. When you are ready, place the cards down in order, from one through ten.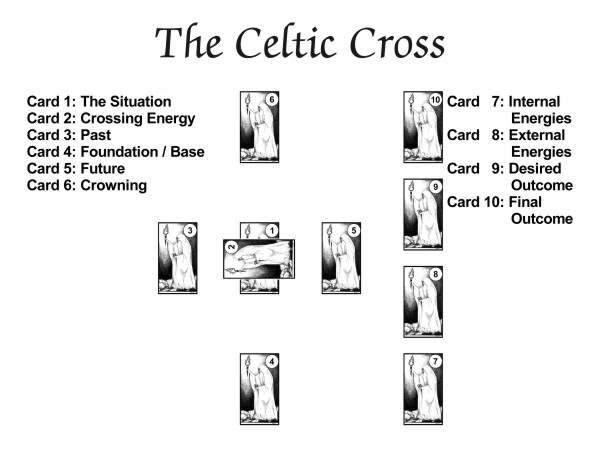 Card One is the basis of the situation. This is the main focus and it tells you overall what is around your focus.
Card Two is the Crossing Energy. It is what bars a desirable outcome or what is effecting the energy to create an outcome. It is what is having an effect on the situation.
Card Three is the past and tells you what has happened. Many times a card indicating past events shows us a perspective we did not expect. If so, we need to pay attention because it is clearly showing we haven't been aware of everything that has happened.
Card Four is the foundation, base or root of the situation, it tells what the entire situation is based on.
Card Five is the future. Although there are several cards telling you what to expect, this card tells you what path the situation is likely to take as it is now.
Card Six is the crowning energy. It is what is above and what is effecting the situation overall.
Card Seven is what you are bringing to the situation. Pay attention to this, since it can often show that your concerns are not what you want to believe they are.
Card Eight is what others perceive is your influence or part in the situation. It always helps to know if others see something about a situation we don't see.
Card Nine is your desired outcome. It is what would happen if your wish governed the outcome.
Card Ten is the most likely outcome. Be sure to compare Card Ten and Card Nine to see the difference. Also compare them with Card Five to see if there are differences. Be sure to understand those differences.
If you are asking a question, such as, "What will happen if I go out with him/her?" and positive cards show up as Card 5 and Card 10, then you know what to expect. Be sure, though, to take into account the crowning energies, the foundation, and the crossing energies. Sometimes there is darkness in the past or as part of what is happening and we need to be aware of that to be able to deal with it and focus on a positive result.

Click here to go on to the Summary
Click here to return to Spreads.
Click here to go to The Gateway to the Soul.
If you want to go to the Table of Contents, click here.
If you want to go to the Download section, click here.