The Wandering Hermit

Learning the Tarot
by Peter Denvid Wright
Denvid@TheWanderingHermit.com
© 1999 by Peter Denvid Wright
P.O. Box 3571, Richmond, VA 23235
(804)-560-2820
Brand New At The Wandering Hermit!

We now have a bulletin board to discuss all the topics on The Wandering Hermit. Please stop by and ask questions about the tutorials, discuss some poetry (or even post your own poetry), or talk about a number of metaphysical topicslike Tarot, Astrology, Rebirthing, Past Lives, or Spiritual Growth.

---
The Gateway to the Soul
This is a simple spread. It is focused on one issue. It is not intended to give a past, present, and future. It just gives you several cards. Read them separately, as if you are reading words in a sentence. After you are sure you grasp the meaning of all the cards individually, then put them together, as if making a sentence, and see what they tell you as a group.
After you shuffle the cards, clear your mind and listen for a number. Keep that number in mind, since it is how many cards you will be drawing. Spread the cards in an arch in front of you. Let your intuition guide your hand to cards in the arch. Pick the cards, one at a time, until you have as many as the number you sensed or heard earlier. Place them in a row within the arch, one by one, as you pick each one. They now form the Gateway to the Soul. You can place them face down or face up. If you place them face down, you can turn them all over at once, or one at a time and read each one before you turn over the next. For some strange reason, most people seem to usually hear odd numbers, and usually three or five.
As a review: Shuffle the cards. Listen intuitively for a number. Spread the cards into an arch. Draw as many cards from the arch as the number you heard. Place them in a row under the arch. These cards are the message for you. An illustration with some directions (written in verse) is below.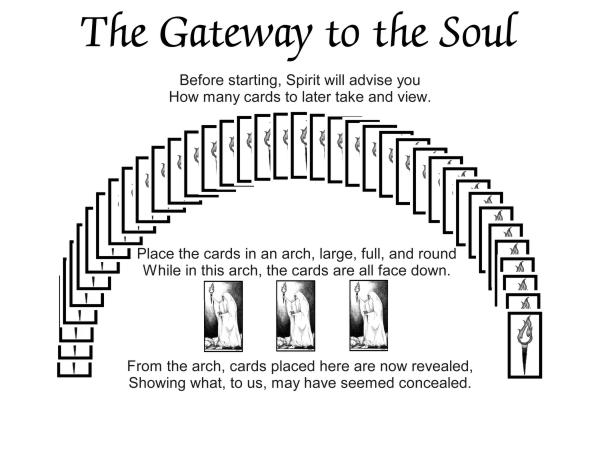 Click here to go on to the Summary
Click here to return to Spreads.
Click here to go to The Celtic Cross.
If you want to go to the Table of Contents, click here.
If you want to go to the Download section, click here.